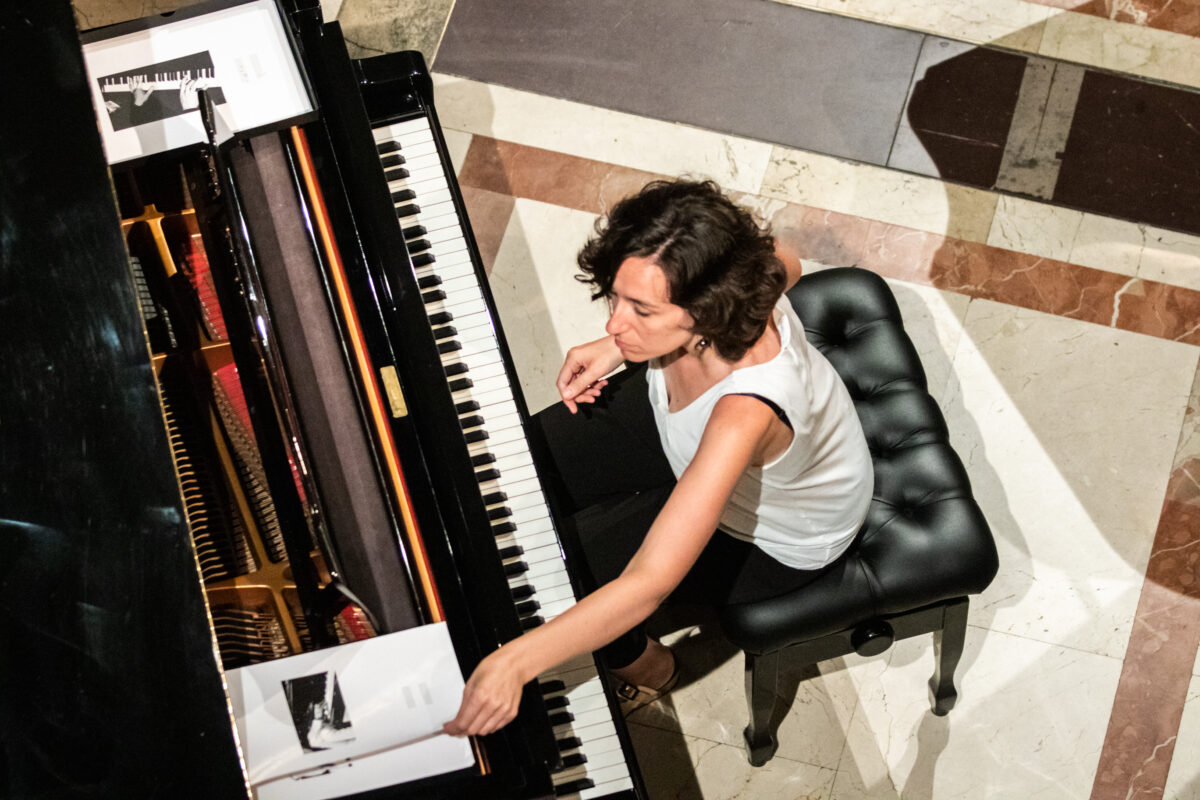 24 Jan

Lluïsa Espigolé

.

Lluïsa Espigolé está especializada en el repertorio contemporáneo para piano. Su actividad está centrada en la interpretación y estrenos de obras de nueva creación como solista, música de cámara, ensembles así como también colaborando en proyectos interdisciplinares y de improvisación libre.

Como solista y en formaciones de música de cámara ha promovido y estrenado numerosas obras de artistas de su generación, así como estrenos nacionales del repertorio de los siglos XX y XXI destacando el trabajo conjunto con compositores como Peter Ablinger, Mark André, Joanna Bailie, Michael Beil, Beat Furrer, Helmut Lachenmann, Bernhard Lang, Marco Stroppa, entre otros. Lluïsa Espigolé es miembro de los ensembles CrossingLines y Funktion, y ha colaborado con diferentes formaciones entre las que destacan los ensembles Adapter (Berlin), Ensemble Ascolta (Stuttgart), FRAMES Percussion (Barcelona), Ensemble Linea (Strasbourg), Ensemble Modern (Frankfurt), Ensemble Plus Minus (Londres), Neue Vocalsolisten (Stuttgart) y las orquestas Orquestra Simfònica de Barcelona i Nacional de Catalunya (OBC),  Südwestrundkunk Symphonieorchester (SWR), Orchester der Staatsoper Stuttgart,  Orchestre Philarmonique de Luxembourg.

Como solista y también en conjunto ha actuado en festivales, ciclos y salas de conciertos como 8Brücken Köln (Colonia), Barcelona Obertura Spring Festival, Ciclo de Conciertos de Música Contemporánea Fundación BBVA, EMA Festival (Madrid), Festival Ensems (Valencia), Heidelberger Frühling, Festival Grec, Lucerne Festival, Festival Mixtur (Barcelona), Festival Musica (Strasbourg), Internationales Musikfestival Darmstadt, Sampler Sèries de l'Auditori (Barcelona), Sónar Barcelona, Sound of Stockholm, Transparent Sound (Budapest), VANG Músicas de Vanguardia (Madrid), Alte Oper (Frankfurt), KKL (Lucerne), Konzerthaus (Viena), L'Auditori (Barcelona), Liederhalle (Stuttgart), Philharmonie (Luxembourg), Theaterhaus (Stuttgart), Zentrum für Kunst und Medientechnologie (Karlsruhe), entre otros. Ha grabado para sellos discográficos, televisión y radio como ARTE, Catalunya Música, Hessischer Rundfunk, Inexhaustible Editions, Neu Records, ZDF.

Ha sido profesora de música de cámara contemporánea en la staatliche Hochschule für Musik Trossingen (Alemania) y coordinadora del Festival Donaueschinger OFF hasta 2011. Actualmente es profesora de música de cámara y piano contemporáneo en el Conservatorio Superior de Música de Aragón (CSMA). Paralelamente desarrolla actividades pedagógicas en colaboración con diferentes centros nacionales e internacionales, centradas en el repertorio de los siglos XX y XXI, las extended techniques y en el repertorio multimedia para piano. Desde 2021 comisaría el ciclo de músicas inusuales OUT·SIDE junto con Miquel Vich.

Lluïsa Espigolé cursó los estudios de piano en el Conservatori Superior Municipal de Música de Barcelona con Anna Mª Pinto y Mª Jesús Crespo, finalizando el 2003 con las máximas calificaciones. Posteriormente ha sido alumna de Yukiko Sugawara-Lachenmann en Stuttgart, así como de Nicolas Hodges y Florent Boffard durante sus estudios de especialización en música contemporánea (Zusatzstudium Neue Musik) en la Hochschule für Musik und darstellende Kunst Stuttgart (2004-2008). También tuvo la oportunidad de trabajar con Ueli Wiget, Hermann Kretzschmar y los demás miembros del Ensemble Modern durante la Internationale Ensemble Modern Akademie (2006-07) en Frankfurt (Master in Contemporary Music en colaboración con la Hochschule für Musik und darstellende Kunst Frankfurt am Main), becada por el gobierno alemán (Kulturstiftung des Bundes). Completó sus estudios con Florian Hölscher con el Master in Contemporary Arts Performance en la University of Music Lucerne (2008-10), becada por la Confederación Suiza (ESKAS). Fue galardonada con el premio Kunststiftung 2007 (Arts Foundation Baden Württemberg) como artista emergente por su dedicación a la música experimental.

.