So far, the CSMA has signed cooperation agreements with more than 60 higher education centres from 20 European countries and aims to multiply that number, in order to offer young musicians the best opportunities for the development of their professional careers. In the same way, our teaching staff has also benefited from this program. 35 of the CSMA professors have visited different European centres and 34 professors from abroad have made a stay in our institution.
.
.
ERASMUS+
.
Nowadays, music is an activity that knows no borders, so international aspects are essential for the training of young musicians and their access to the professional world. Studying abroad is a great way to broaden your artistic knowledge, improve your language skills, and develop your capacity to adapt to new environments, as well as an opportunity to communicate with people from diverse cultural backgrounds.
The Conservatory of Music of Aragon was awarded the Erasmus Charter for Higher Education (ECHE) in the year 2014. This document shall be valid for the duration of the Erasmus+ Programme (2014-2020).
.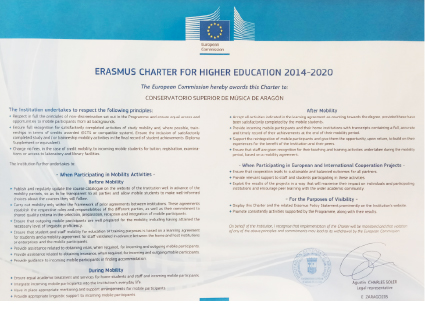 .
As a result, the CSMA has started to establish cooperation agreements with diverse Higher Education centres throughout Europe. This strengthens the links already established with other institutions and expands the number of our contacts as we seek to establish new collaborations with other centres and countries.
.
Being aware of the great relevance of agreements between institutions, the Conservatory of Music of Aragon supports any internationalization projects and initiatives. Encounters with other centres generally take the form of exchanges, both of students and teachers, but there is room for the establishment of other initiatives, such as concert tours, co-productions, joint training projects, experiences and stays of foreign personalities, etc. All these activities are positive for gaining knowledge of other cultural traditions and heritages, which not only broadens our range of learning and enriches our vision of the world, but also allows us to share and value our own traditions.
.