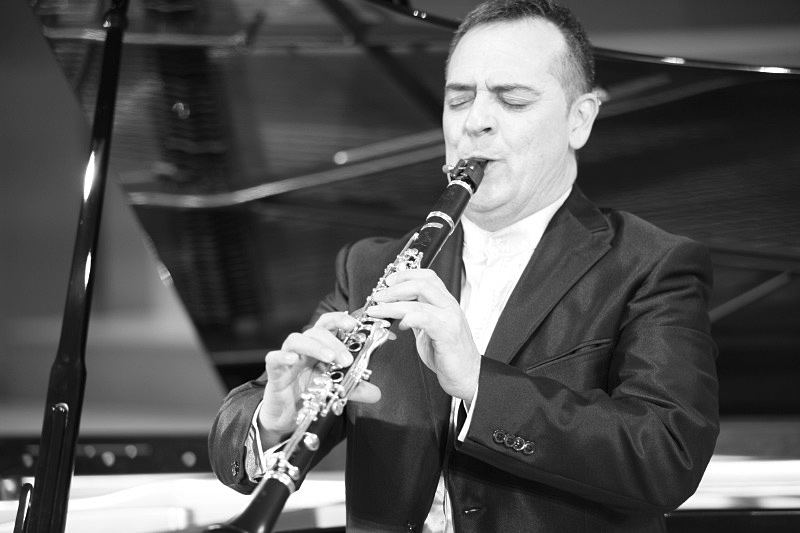 26 Feb

Francisco Antonio García

.

www.fundaciongarciaesteban.org

.

Nace en Puçol (Valencia) donde empezó sus estudios musicales. Obtiene el Título Superior de Clarinete en el R.C.S. de Música de Madrid y el Doctorado en Solista y Música de Cámara en el Conservatorium de Rotterdam (Holanda), con Walter Boykens. Realiza un postgraduado en el Royal College of Music de Londres (ARCM) con Michel Collins y Colin Bradbury, siendo galardonado con el premio "Fanny Hughes". Ha recibido consejos de Jacques Lancelot, Karl Leister, Walter Boeykens, Antony Pay, Thea King.

.

Ha sido solista en la Orquesta Sinfónica "Ciudad de Valladolid" y de la Orquesta Sinfónica de Galicia. Ha colaborado con la Orquesta de Cadaqués, Ciudad de Barcelona, Virtuosos de Moscú, Ciudad de Granada, Grupo Enigma-Orquesta del Auditorio de Zaragoza, Orquesta Sinfónica de Castilla-León.

.

Imparte clases en Cursos nacionales e Internacionales y Master-Clases en diversos Centros Superiores españoles. Como intérprete ha actuado en España, Holanda, Francia, Italia, Portugal, Inglaterra, Serbia, Argentina, Uruguay y Estados Unidos. Ha realizado grabaciones para RNE y recientemente las grabaciones "Del 27 al 51 Recuperación de una Modernidad" con la pianista   Carmen Esteban;  "Voces de Ébano" con el Modern Ensemble y  " Música para una noche romántica" con la pianista Carmen Esteban y el violonchelista David Apellániz.

.

En 2008 realiza su presentación en New York con un recital en el Carnegie Hall y en el año 2009 en el Mozarteum. Ha sido invitado por la  Asociación Internacional del Clarinete ICA,  ha participar en los Festival Mundiales CariFest de Oporto (Portugal)  y Texas (EEUU).

.

La crítica  siempre ha destacado de él su gran musicalidad y maestría técnica.

.

Desde el año 2002, desarrolla su labor docente en la Cátedra de Clarinete del Conservatorio Superior de Música de Aragón, invitando a compartir su trabajo asiduamente, con figuras internacionales  como Philippe Cuper, Fabrizio Meloni, François Benda, Andreas Sunden y Wenzel Fusch entre otros.

.

Francisco Antonio García es artista Buffet y toca clarinetes Tosca.

.

.

Críticas: El "chalumeaux" dramático y lleno de sonidos primigenios, graves, sugerentes y bellos del clarinete de Francisco Antonio García, iniciaba "Silencio" del compositor Joaquín Homs, con una original puesta en escena entre luces y tinieblas, a la que contribuyó este excelente músico con su coreográfica expresión corporal. La obra de Homs, en la interpretación de García, recorrió todos los matices sonoros, desde el "forte" frío y amenazante, hasta el "piano" cálido y transparente, y subió toda la escala de registros, con una regulación impactante, alcanzando los agudos con enorme brillantez. Luis Alfonso Bes. Heraldo de Aragón

.

"Quando poi a suonarlo sono musicisti come Francisco Antonio García che ne sanno trarre un'amplissima gamma di colori e ne sanno esaltare l'estrema agilità (che nulla ha da invidiare a quella del violino), allora il clarinetto diventa capace di soddisfare le mille esigenze espressive della musica da camera della prima metà del Novecento". Roberto Zambonini. La Provincia di Lecco (Italia).

.

"Respecto a la interpretación, decir que estamos ante músicos que nada tienen que envidiar a los mejores de cualquier parte del mundo. Francisco Antonio García es uno de esos intérpretes que han comprendido perfectamente que no sólo es necesaria una depurada técnica sino que el análisis y la comprensión de la intencionalidad del autor debe ser unida a ésta para producir un verdadero resultado musical. Pero en esta cuidada grabación- Voces de ébano- hay que resaltar también un hecho que no siempre ocurre: el nivel interpretativo de la totalidad de los intervinientes en el registro –miembros del Modern Ensemble- es realmente alto, algo que no resulta sencillo teniendo en cuenta la diversidad estilística y estética de las obras grabadas, así como las dificultades técnico-expresivas que casi todas presentan. En definitiva, un CD muy recomendable y que se inscribe en esta especie de "renacimiento" que vive la producción discográfica en España. VIcky Soler Martin "SULPONTICELO" p.327, octubre 2009

.

" Francisco Antonio García played with a rich dark tone… pianist Carmen Esteban fluidly alternated beetween a supporting role and a soloistic character… they demonstrated delicate, sensitive phrasing and a great sense of ensemble throughout." Denise Gainey. The Clarinet Vol, 38.Dec. 2010

.

"Throughout, and in the closing minute-and-a-half solo of this five-and-a-half-minute piece, Garcia is indeed impressive with his control of dynamics, repid intervals, quick articulation, and the natural and musical ease with wich he ejecutes multiphonics and other extended technique.  Mort d'Antigone and its stunning performance is a high point of this release". William Nichols. The Clarinet, march 2010

.