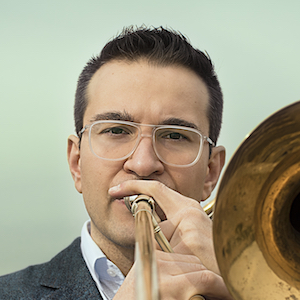 25 Jan

Daniel Perpiñán

.

Dani comenzó su educación musical en Valencia con los profesores Salvador Tarrasó y Rafael Polanco. Tras finalizar sus estudios de trombón en el Conservatorio Superior de Valencia se trasladó a Londres para continuar su formación en la Guildhall School of Music and Drama con los profesores Eric Crees, Simon Wills, Peter Gane y John Kenny. Durante su etapa como estudiante formó parte de importantes orquestas como la Joven Orquesta de los Países del Mediterráneo, Joven Orquesta Nacional de España, Joven Orquesta de la Unión Europea y la Joven Orquesta Gustav Mahler.

.

Su andadura profesional inició en el 2000 cuando comenzó a trabajar en la Orquesta Sinfónica de Bilbao como trombón solista, puesto que ocupó hasta el 2012. Dani ha tocado con la mayoría de orquestas españolas así como con formaciones como la Mahler Chamber Orchestra, la Orchestra Mozart y la Orquesta del Festival de Lucerna. Durante su carrera ha tenido el privilegio de trabajar con grandes maestros como Colin Davis, Bernard Haitink, Pierre Boulez, Kurt Masur, Franz Welser-Möst, Lorin Maazel, Carlo Maria Giulini, Lutz Köler, Marc Minkowski, Daniel Harding y Claudio Abbado.

.

Dani es un músico versátil que ha querido explorar diferentes áreas musicales a lo largo de su trayectoria, en ese sentido ha realizado grabaciones junto a artistas de jazz, ha escrito sus propios arreglos y composiciones para formaciones de viento metal y cuenta con un Máster en Musicología y Educación Musical por la Universidad Autónoma de Barcelona.

.

Su faceta como director de ensembles comenzó en 2004 con el Grupo de Metales del Centro Superior de Música del País Vasco (Musikene) durante siete años de docencia. Ha seguido dirigiendo formaciones como el Coro de Trombones de ESMUC y del CSMA, el Aragon Brass Meeting, el International Trombone Ensemble del ITF 2015, el Grupo de Metales del CSMA, el Nineties Trombone Ensemble y el European Brass Collective, grupo residente del festival austríaco Sankt Florianer Brucknertage.

.

Su compromiso con la educación es intenso desde hace muchos años, ha enseñando a generaciones de exitosos trombonistas y sigue en el empeño. Ha trabajado en el Centro Superior de Música del País Vasco (Musikene), la Escuela Superior de Música de Cataluña (Esmuc), el Conservatorio Superior del Liceo de Barcelona y la Brass Academy Alicante. Actualmente es profesor del Conservatorio Superior de Música de Aragón.