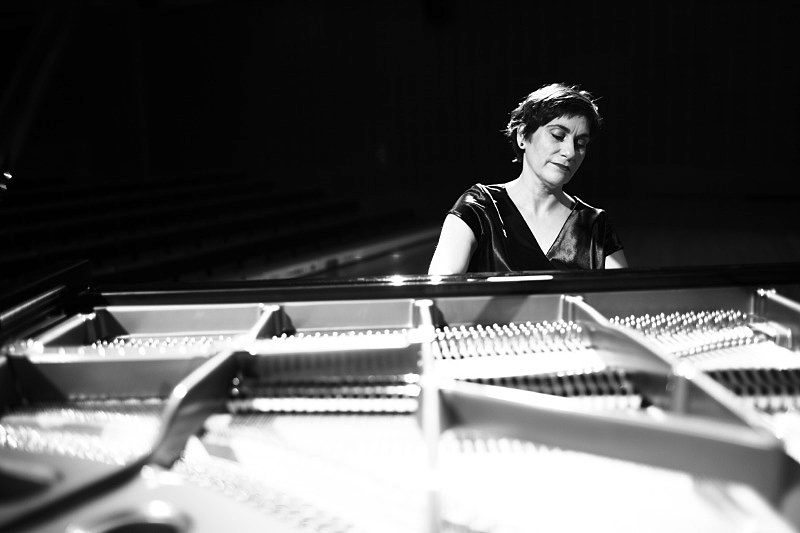 26 Feb

Carmen Esteban

.

www.fundaciongarciaesteban.org

.

Nace en Zaragoza donde realiza sus estudios musicales. Con posterioridad viaja a Madrid donde realiza sus estudios de perfeccionamiento con el pianista Pedro Espinosa de quien recibe los mejores consejos musicales que marcarán enormemente su carrera. Se traslada al Conservatorio Superior Municipal de Barcelona donde trabaja la Música de Cámara con la profesora Liliana Maffiote.  Asiste a  diferentes cursos y clases perfeccionamiento en España y Hungría, tanto de Piano como de Música de Cámara, recibiendo consejos de Ramón Coll, Roberto Bravo, Cecilio Tieles, Carles Guinovart, Adela Barranco, Violeta Hemzy de Gainza, Gonçal Comellas y Marçall Cervera, entre otros.  Formó parte del equipo pedagógico musical del Gobierno de Aragón, bajo la dirección de Mª Ángeles Cosculluela y fue fundadora de la Schola Cantorum dirigida por el musicólogo José Vicente González Valle, entre los años 1984 y 1988.

.

En 1989 es finalista del Concurso de Juventudes Musicales de Música de Cámara. Ha realizado diversos cursos como pianista acompañante y grabaciones para Radio Nacional de España.  Entre su discografía destacan los CD´s "Del 27 al 51 Recuperación de una Modernidad"; " Música española del s. XX: Voces de Ébano"; y "Música Romántica para una noche de verano" todos ellos con muy buenas críticas. Ha sido jurado en concursos nacionales e internacionales de Música de Cámara y piano, como el Concurso de Música de Cámara Fernando Remacha de Pamplona o el Concurso Internacional de piano de Brest (Francia).

.

Ha colaborado con el conjunto instrumental de Música Contemporánea, "Grupo Enigma-Orquesta del Auditorio de Zaragoza" en diversas temporadas. Desde el año 1996 forma dúo con el clarinetista español Francisco Antonio García, y en el año 2003 ambos fundan el Grupo Modern Ensemble, una agrupación instrumental más amplia cuyo nexo común es el piano y el clarinete, y  a los que se les añaden el cuarteto de cuerda, la voz u otros instrumentos. Con dicho grupo abordan programas más amplios, interactuando en ocasiones con otras artes como la literatura, la danza o la pintura. Ha realizado conciertos en toda España, así como en Holanda, Italia, Checoslovaquia, Serbia, Argentina, Uruguay, Estados Unidos y Francia, donde ha tenido el placer de tocar en la prestigiosa Salle Cortot de París. En el año 2008 realiza su presentación junto al clarinetista Francisco Antonio García en el Carnegie Hall de New York y en el año 2009 en el Mozarteum de Buenos Aires (Argentina).

.

Su amor por la Música de Cámara, le ha traslado a trabajar en diversos centros españoles, y en la actualidad es docente en el Conservatorio Superior de Música de Aragón.

.

Desde el año 2012 y junto al clarinetista Francisco Antonio García, crea la Fundación García Esteban, cuyo objetivo es la difusión de la Música en todas sus facetas, compartiendo la dirección artística del Festival Internacional de Panticosa "Tocando el Cielo", en el Balneario de Panticosa.

.

Críticas: "Il successo del concerto lo si deve anche alla precisa e puntuale pianista Carmen Esteban che non solo ha assecondato con bravura il clarinetto, ma è intervenuta nella costruzione di un sempre serrato dialogo a due. Applausi calorosi e meritati. Roberto Zambonini. La Provincia di Lecco-Italia-

.

"El compositor catalán sirve de enlace para el siguiente capítulo del disco, con clarinete y piano como protagonistas. Francisco Antonio García y Carmen Esteban consiguen con los "Sonetos" de Toldrá y el "Self-Paráfrasis" de Xavier Montsalvatge algunos de los momentos más bellos y expresivos de este programa". Juan Antonio Gordón. Artes & Letras. Heraldo de Aragón

.

"El cuidado, casi hasta el mimo de los intérpretes en las distintas obras, y su perfecta delimitación de la personalidad de los distintos autores, convierten a este disco en un testimonio de una época aún poco explorada y es de esperar que cunda el ejemplo". Revista Melómano, Nº 121, junio 2007

.

"Francisco Antonio García played with a rich dark tone… pianist Carmen Esteban fluidly alternated beetween a supporting role and a soloistic character… they demonstrated delicate, sensitive phrasing and a great sense of ensemble throughout." Denise Gainey. The Clarinet Vol, 38.Dec. 2010

.